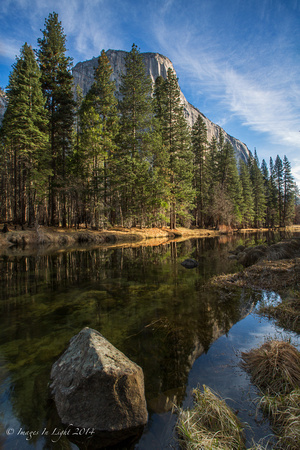 Image: El Capitan and the Merced, 5D Mk III, EF24-70 f/2.8, 16mm @ f/16.
Larger Image
Image: The Merced River, 5D Mk III, EF24-70 f/2.8, 16mm @ f/13.
Larger Image
I have always wanted to go back to Yosemite, but I was kind of disappointed on this trip, perhaps I have seen to much of it in pictures ? at any rate the next time I return, it will be to the upper part that is less traveled,
Tuolumne Meadows
above Yosemite Valley, it has the beauty, less crowds and the wilderness feel that the lower valley lacks, a winter stop in the lower valley might be nice, if there was plenty of snow.
Upper Cathedral lake and the entire upper basin would make for a great trip on the way over to the Eastern Sierra and a trip up in to the Whitney Portal and Convict lake.