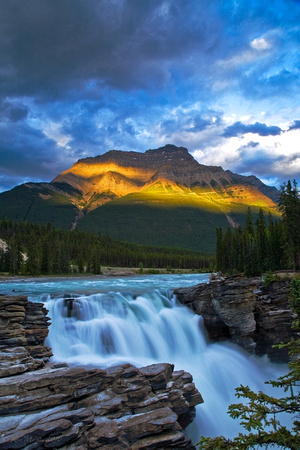 Image : Athabasca Falls, 5D, 24-105 f4 L IS, 3 stop

GND

filter,f11, 1/2 sec. ISO 100.
Some times do your photos just loose something when you re-size and post them to the web ?
Sharpen and size your work before posting to the web, don't let your web site do it for you, most web sites do a very poor job of this and you can't just
re-size
an image from 5600 pixels in one shot. A
technique
I learned from a fellow photographer for sizing and sharpening for the web. Once you have your image ready, in other words its printable, re-size your image using
bicubic
sharpener reducing its longest length by 1000 pixels at a time, repeat this step until you are down to about 1600 pixels on the long end and then use the sharpen tool (filter/sharpen) and sharpen it once or twice (I use CS3), at this point it will look over sharpened, re-size it one more time to 800 pixels on its longest side and see how it looks, be careful not to over do it. This usually does it for me some times I use the sharpen tool only once, some times twice and some times I have to go back and
un
-do one of the
sharpening's
, add your copyright and post it to the web. It took a little bit of experimenting and it will differ a little from image to image.
Also you may want to take a look at
this
or see this
video
. The method I described works well for me and a lot of others, so experiment a little. This should help make your images more presentable on line.
Ross Murphy
Images In Light