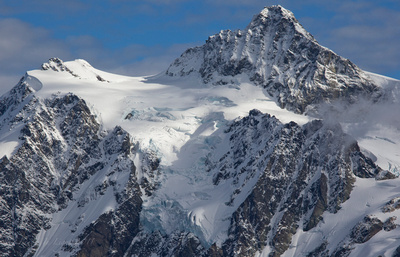 Image: Mt Shuksan, 5D Mk II, 300 f2.8 IS L, f11, 1/500 sec.
Larger Image
Click Image for Larger view


Fall is upon us, although the color is a little delayed this year due to weather. I decided to go looking for Black bear on the
Chain Lakes loop trail
at Mt Shukson, so I decided to bring along my 300mm brick, which is a lot of weight to carry for a short hike, but if I wanted a bear shot I needed a minimum of 300mm, so I loaded up and headed for the pass above Bagley lakes. At 90 oz. this lens doesn't go in my pack very often, but this is the time of year to see bear.
This is a beautiful hike, bear or no and in this case,
no
was the operative word, but the views of Mt Shuksan and Kulshan (Baker) more than made up for packing that big piece of glass up the side of a mountain.
The second and third shots above are crops of the first and you can view them at 1600 pixels on the long end by clicking on them, I did this so you can get an idea of the resolution this lens has. It is an incredibly sharp lens from f 2.8 to f 16, definitely the best lens I have ever shot with, the detail in the glaciers is incredible when viewed full size , it makes it very easy to crop images from 21mp to say 12mp and still be able to print large images, great for wildlife photography.
The 2nd to last image shows the fall color starting to come in at the higher elevations and the last image a snapshot of my position with my s-95. With a dusting of fresh snow on Shuksan it wont be long until the lower elevations in the
Bagley lake
Basin start seeing the blueberries turn to crimson and red and orange and.............
Time to dust off the snow shoes.
Ross
Images in Light