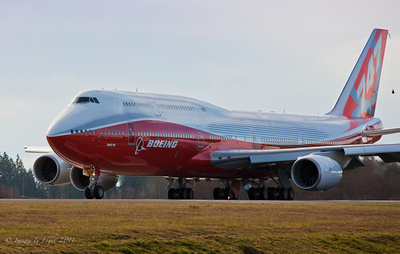 So this is what I work on for my day job, the last 5 years have been spent working towards getting this Baby off the ground, which happened on Sunday. The 747-8 Intercontinental is almost an all new 747, with a fuselage extension, an all new super critical wing and new fuel efficient Gen X engines, new materials and a fully computerized design. So I can't help but blog about this aircraft, all images where taken with the 5D Mk II and 70-200 f4 IS L lens.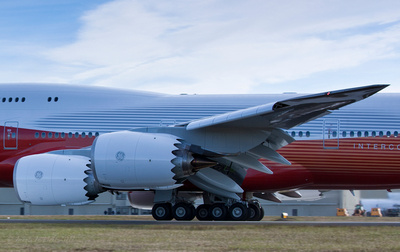 Larger Image
Most of my time was spent here on the wing, with the remainder on the fuselage and wing to body fairing. Next year this aircraft will be flying people to the far corners of the globe.
A lot of people have been asking about the cone that hangs from the tail,
see this.
Ross
Images in Light
Parting Shots, 747-8I and T-33 chase plane
click images to view larger



Spooling Up