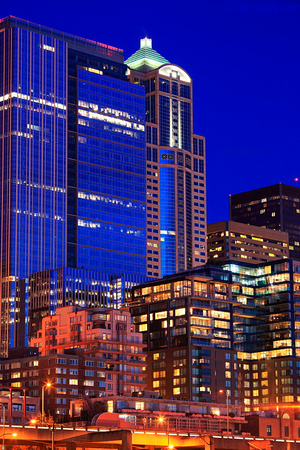 Image: Seattle, 5D Mk II, 24-105 f4 L IS, 111mm, f11, 15 s, ISO 200.
Larger Image
No, no second thoughts, this camera still impresses me. However I think its biggest down fall is its lack of Pro-Auto focus or at least Semi-Pro auto focus and full weather sealing. Canon should have improved the auto focus in this camera to at the very least the level of the 50D. I know they couldn't put the top of the line focus module in it, that would have killed 1
Ds
3 sales and a lot of people advocate focus and recompose, which works some of the time, but not when using AI servo on fast moving subjects like hummingbirds or other animals. The outer focus points are almost worthless in low light and you are left with a very fine center focus point. Guess I need a 1
DMKIII
, just don't have $7000.00 to spare on a camera though.
I now compare ISO 1600 on the Mk II to ISO 400 on the MK I so from what I have seen in the first 5000 or so shots, I see a 2 stop improvement in noise, that's pretty big going from 12.8 mp to 21.1 mp. ISO 3200 can be very usable depending on the how you use it, for web use most ISO 6400 shots are acceptable, for print use that will take a little more time to evaluate, but ISO 400 is very usable for large prints. The 100-200 range there is no noise, period. The live view, appears to work very well and I use it more than I thought I would, especially for those shots where it is hard to see in the view finder. Another great feature is being able to see all your settings and adjust them from the rear LCD screen, one press of the set button and then you can scroll through your settings. So far I am happy with the upgrade and the larger files, well, get a 1TB external drive for $200, problem solved.
Ross Murphy
Images In Light