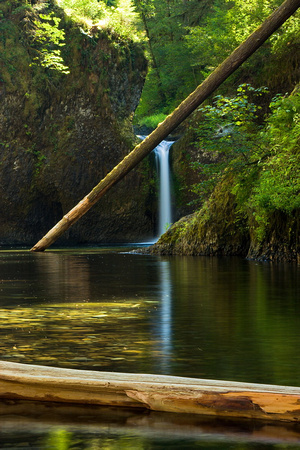 Image: Punchbowl Falls, 40D, 24-105 f4 L IS,
f22, 2.5 sec, 65 mm.
Larger Image
Image:

Marymere

Falls 40D, 17-40 f4 L,
f11 1/5 sec, 25 mm.
Larger Image
One of my favorite things to shoot, especially in the Columbia river Gorge, on the Oregon side.
Shooting waterfalls can be quit difficult, the contrast between the water and the surrounding landscape can be
extreme
to say the least and if sun light is landing on the water it becomes most times impossible to get a good shot. I prefer to shoot falls that are shaded when the contrast is closer between the falls and the surrounding area, this makes those over cast wet days great for getting out and exploring nearby waterfalls. Depending on conditions I may use a CPL or even a
GND
filter, I like to shoot them under one second to avoid to much of the misty water look, however some times when shooting in the canopy of the forest you may have to up the ISO to get the speed you want. Be creative and experiment, some time's a longer exposure works. A CPL or
GND
can help you get the longer exposure and by metering on the water (use exposure lock) and then recompose and focus on a foreground subject to add interest, you can get a nice even exposure, by metering on the brighter water the longer exposure will bring enough light to the surrounding area, remember if your foreground is not in focus the shot is ruined.
Ross Murphy
Images In Light