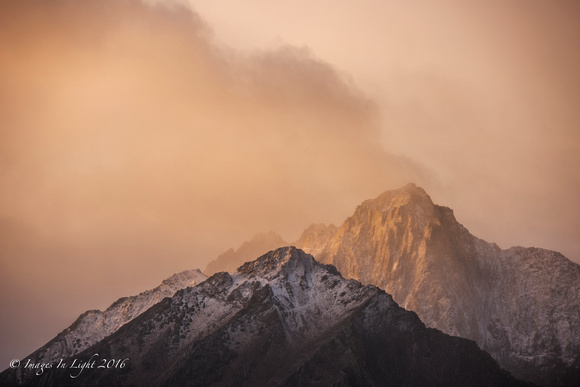 Nikon D810 and AF-S NIKKOR 70-200mm f/2.8G ED VR II
170mm, f/5, 1/100 sec, ISO 64
Nikon D810 and AF-S NIKKOR 70-200mm f/2.8G ED VR II
110mm, f/8, 1/125 sec, ISO 64
I love long lensing mountain scenes, if I can't be up there, I'll get as close as I can. The D810 and the Nikkor 70-200 are a great combination for this. Being able to shoot native ISO 64 and 36mp with a really great long lens is fantastic, my only complaint is the vignetting that comes below f/8, its fixable most of the time pretty easily, but a pain. The new
AF-S NIKKOR 70-200mm f/2.8E FL ED VR
will probably fix this but at $2800, ouch, 35mm lenses are getting expensive these days.
This lens/camera combo has the ability to capture very fine detail and render it nicely, clouds are rendered exceptionally well. Vast blue skies are not my favorite on Nikon, most cameras have a hard time with blue skies, Fuji probably gets them done best.
Nikon D810 and AF-S NIKKOR 70-200mm f/2.8G ED VR II
78mm, f/8, 1/50 sec, ISO 64
The dynamic range that comes out of the D810 is nothing short of fantastic, that Sony sensor is fabulous, the buffer is a little small and the live view still needs work, but for landscapes it is hard to beat, but be prepared to carry around a heavy load.
This setup was only taken on short hikes and used from the road on this trip, My 5D Mk IV and 24-70 and 16-35 made it in to my pack for longer hikes.
Nikon D810 and AF-S NIKKOR 70-200mm f/2.8G ED VR II
70mm, f/8, 1/200 sec, ISO 100
I can honestly say after using the D810 and the 5D Mk IV that both are exceptional cameras and you cant go wrong with either. I still prefer the Canon ergonomics and colors, the Canon live view is unbeatable at the moment, I shoot most landscapes on a tripod with live view. If I could put that Sony sensor in a Canon 5D, well that would be the camera of choice.
Ross