Number 5 and 6 - 5D Mk IV, 300 f/2.8 L IS, 1/800, f/5
F-22 Raptor - 5D Mk IV, 300 f/2.8 L IS, 1/800, f/5
Patriots - 5D Mk IV, 300 f/2.8 L IS, 1/800, f/5
Fleet Week in San Francisco, when a million people descend on the water front to see the Navy bring its ships in, in general a big party, the culmination being the Blue Angles. It really is a pretty good air show, with multiple acrobatic teams and flybys, a PR show for the military and other sponsers like United Airlines, they did a low and slow 747-400 flyby over the Bay.
Its been a while since I shot an air show and with a new camera, I was pretty clumsy, when setting up a new custom setting I forgot to set RAW and shot the first third of the show in jpg, I thought wow, that was a big mistake. However the the 5D Mk IV jpg's are quit nice, the F-22 Raptor and Patriot shot above where shot jpg only and I was pleasantly surprised at how well the new camera produces jpg's out of camera.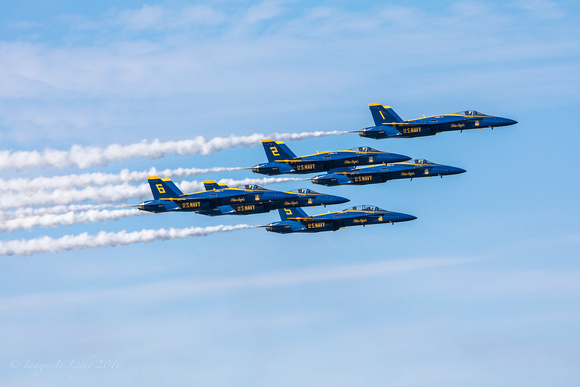 Angles Race - 5D Mk IV, 300 f/2.8 L IS, 1/1000, f/5.6
As usual the Blue Angles put on an incredible show, the sound of their jet engines right over your head is unforgettable. This was my first time shooting the Blue Angles and in the crowd I had to make sure I didn't knock someone out with my big lens as the jets went screaming by and I pivoted to track them.
More Fleet Week images
here
Ross