5D Mk IV, EF16-35 f/4 L IS, f/16, 24mm, 1 sec, 6 stop ND filter, ISO 100.
Windy day at Convict Lake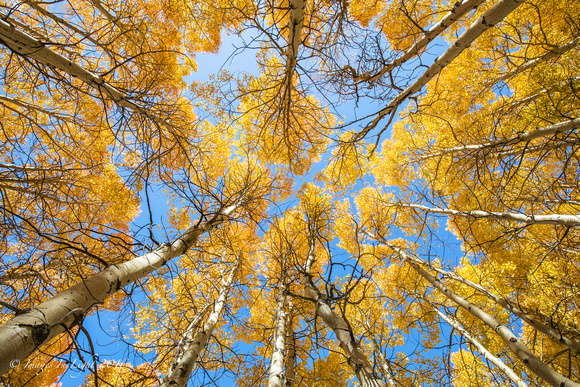 5D Mk IV, EF16-35 f/4 L IS, 1/40 sec, f/16, 16mm, ISO 100.
Aspen near BishopCreek
5D Mk IV, EF24-70 f/2.8 L II, f/11, 2.5 sec, 6 stop ND filter, ISO 100.
Owens valley Lenticular clouds over the Sierra
D810, AF-S 70-200mm f/2.8G ED VR II, f/8, 1/50 sec, ISO 64
Cloud formations over Mono Lake
The Eastern Sierra is a beautiful place, it is accessed from the
Owens valley
which lies to the east of the Sierra range. Hwy 395 runs the full length, all the way down to Lone Pine. Along the way are numerous roads that head up in to the high country. Places like the Whitney portal, Mammoth, Yosemite and lesser known places like; June Lake, Big Pine Canyon and Bishop Creek. In the Fall if you are lucky enough to hit it right the Aspens are changing color, the first two weeks of October are the prime season for fall color.
Other places that can easily be visited from Hwy 395 are Mono lake and Death Valley, or spend a weekend skiing at Mammoth, in the Summer when Hwy 120 is open, Yosemite valley can be accessed from the east side. To the east lies desert and near by Nevada, Vegas to the south. One could easily spend a few weeks exploring the area and hardly touch the surface. The best time to go is Fall, followed by spring, then winter, summer days can be long and baking hot in the Owens valley.
If there is a storm in the making, that is when you want to go. When storms come in from the Pacific and hit the hot air rushing up the slopes of the Sierra from the Owens valley, incredible cloud formations can occur, especially over Mono lake. Lenticular clouds are common during these periods.
Hiking your bag? some of the best in the country is near by, the
Ansel Adams wilderness
,
Mammoth
has hundreds of miles of hiking in that one area alone, upper Yosemite, the Pacific Crest Trail, just to name a few.
Minaret Lake
being on my bucket list of epic hikes.
Download the PDF to California's Eastern Sierra Fall Color Guide and map
here
More from the Sierra Nevada
here
Ross
Images In Light