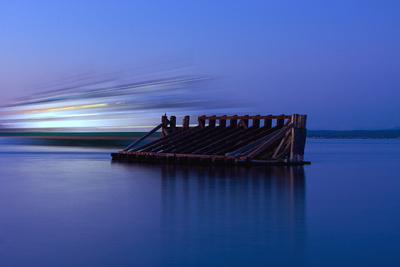 Image: Mukilteo Ferry, 5D, 24-105 f4 IS L, Variable
Neutral
Density Filter f11, 15 sec.
Larger Image
Image: Ecola Beach 40D, 24-105 f4 IS L, Variable
Neutral
Density Filter, f11, 30 sec.
Larger Image
Implied motion:
Adding the feeling of motion to an image can be an interesting way of presenting your interpretation of the scene and sometimes gives pretty wild results. Make sure you have a fixed object of interest in the image and shoot a long exposure, don't worry to much about sharpness but be sure to use a tripod and a filter that allows for a longer exposure, get creative this can be done with many things, from flowers in a field to airplanes departing an airport.
Ross Murphy
Images In Light