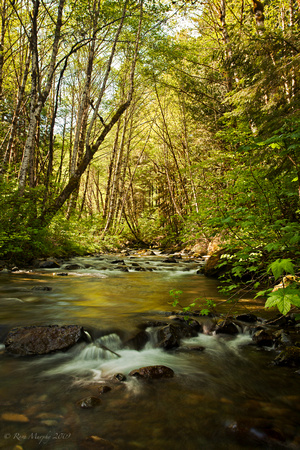 Image: stream, 5D2, 24-105 f4 IS L, f11, .6 sec, CPL and 3 stop

GND

.
Larger Image
Switching to a Mac was something I have been wanting to do for a long time, my PC died on me a few weeks ago so I took the plunge, after some research of course. I use
LR
,
CS3
,
DPP
and
ACDsee
, these needed to work or have an
equal
on the Mac side.
Lightroom
no problem its cross platform,
CS3
; I had to get a cross platform upgrade to
CS4
, $200,
ok
.
Digital Photo Pro
again cross platform, no problem.
ACDsee
; well that one turned out its in beta test and may be a while, so I needed a photo browser and to the rescue came
Photo Mechanic,
great cross platform photo browser. So the stage was set, getting a Mac was harder than I thought it would be, the
Apple
store would not give me the same price for an upgraded Mac Pro as I could get on line, by a long ways. so after some headaches and running around I ended up at
The Mac store
, which is not owned by Apple, they configured my computer and I was on my way. I tell you I could not be happier so far, all my software works, and it is fast and has a clean interface, easy to learn, just wish I had done it sooner. Ended up with a
Mac Pro
quad core 2.66
Ghz
, 6 GB of
DDR
3 RAM, I priced out a top end PC and they are very close in price if you put all top end hardware in a PC like they do in a Mac. So I say if your thinking about it, go for it, get a Mac.
Ross Murphy
Images In Light