Paradise Valley
Larger Image
Paradise
Larger Image
Paradise Valley
Larger Image
If you have time in the next week to visit Mt Rainier, I highly recommend you do so. Mt Rainier puts on a fall show that's hard to beat, rivaled only by the spring bloom, in ways as good as the fall show in New England.
The color is coming mostly from Blueberry bushes that grow all over the Cascade range, the bears go through this like harvester machines, fattening up for their winter long sleep and can be seen at the park stuffing their furry faces full of over ripe blueberrys.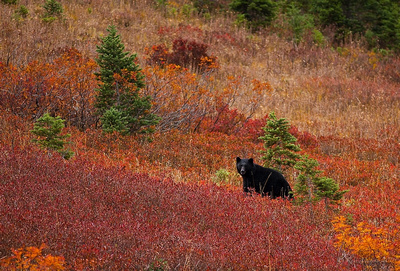 Black Bear fall 2009
Larger image
It was overcast for my visit but I hope to be back for some good weather this coming week end, the color should last another week.
You may also get to see a black and silver phase Red Fox I have seen on a couple of recent shoots at Mt Rainier.
Winter 2009
Larger Image
Ross Murphy
Images In Light