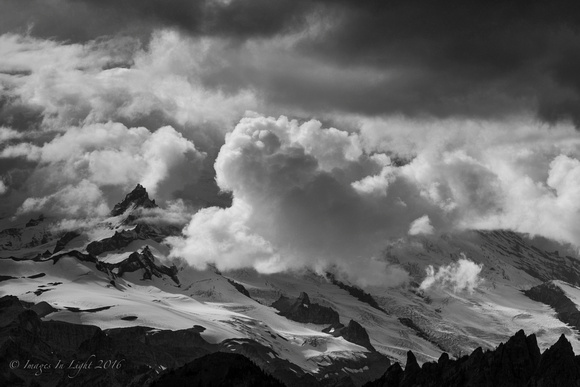 Canon 5D Mk IV, EF 70-200 f/4 L IS, f/7.1, 135mm, 1/5 sec
So far so good with the 5D Mk IV, finally got to take it out for a shoot, even though the conditions weren't ideal, I made the trip down to Mt Rainier. Though the Mountain wasn't in full view I was treated to some nice views of Little Tahoma, clouds swirled around its peak and I tried out the built in intervoltometer, its nice to have that feature built in now, instead of having to dig in to my bag for my remote. The 30 mp is ideal for the extra room to crop and the dynamic range is really exceptional. It renders black and white very nicely, less artifacts in the sky when you push the blue channel. Clouds are rendered especially well with the new sensor, a great subject to test a camera on.
Canon 5D Mk IV, EF 70-200 f/4 L IS, f/11, 121mm, 1/80 sec
The shot from Kerry park is one of my favorite places to shoot a cityscape and an excellent place to test a camera, I know it so well I can easily judge a cameras IQ when shooting here. Colors are the same Canon colors I've come to love. The detail in these images is quit amazing.

Lightroom 6.7 was released last week which supports the 5D Mk IV, quick work by Adobe. File sizes are quite large and it does take a bit more time to download from my CF card. However that's not a big issue compared to the whole process.
For both of these images I used Live View with the touch screen controle. Live view is something Canon is very good with and implementing the touch screen feature makes it almost seamless. Metering is as usual, excellent, especially with live view.

Shadow noise is what every one wants to know about, so far I'm very pleased, no more color noise or banding in shadows, noise that does appear after pushing shadows is very fine grained and un-obtrusive. Canon has done a great job on this new sensor and I'm very pleased with the results so far. Further review of the 5D Mk IV will be upcoming. Stay tuned.
Ross